Upgrade From Magento 1 To Magento 2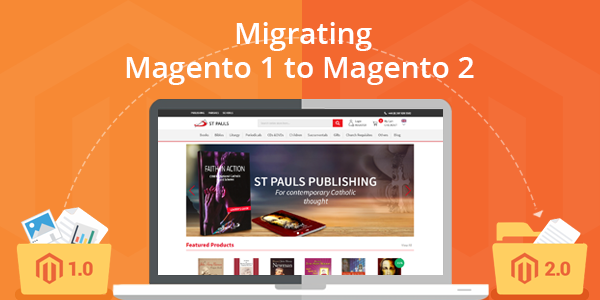 Magento is an ecommerce platform which is very well known and is used widely. It provides the best platforms to empower countless brands and retailers. Recently, the old version Magento 1 has been replaced by a newer, more better version which is Magento 2. Magento 1 is although supported, its life is slowly coming to an end in 2020, when it'll no longer be supported. Magento users do not seem to be ready to give up the old version as there have been very less transfers but also need to embrace reality because there isn't much life left for the old version. Here's why you should switch to Magento 2 now and how exactly should you do it:
Advanced Performance
Magento 2 is a clear winner where advancement is concerned, the store performance has been made much better in the recent version and thus is easy to use. Various new features have also been added that hold advantage over the first Magento. Some notable new technologies include the support of PHP versions, advance browsing, limited unnecessary browser operations and much more.
Efficiency And Speed
The new version provides faster page load speed in comparison to Magento 1. It is reported to load a page within 2 seconds which would normally take longer. The statistics indicate that Magneto 2 is very efficient as it processes 39% more orders per hour, enables 66% speedy add-to-cart response and catalogue browsing is faster as server respond instantly.
The Support From Magento
Magento 1 support will halt by June, 2020.With support comes security along with important fixes which won't be provided for Magento 1 anymore. Absence of support exposes the users of Magento 1 to risk of malicious software that target vulnerabilities after new versions are released. We can be sure that there will be no advancement, new feature or improvement for Magento 1. The Magento 2 will now be the focus of all the workforce.
In short for the best user interface, fast loading, advanced features, support and an overall upgraded platform, users should shift from Magneto 1 to Magneto 2 now. Many users fear change and value their comfort zones and others are afraid of transferring their data gathered over the years, imagining it to be a lot and deeming it 'impossible' which is actually not the case, here's how huge amounts of data can be transferred:
Ewokesoft is a team full of expert people who have years of experience that provide their customers with the best web and digital media solutions such as this; they have successfully transferred data of many Magento based website from 1 to 2, one of which includes St Paul's of the UK who had 10 years' worth of Magento data and ewokesoft experts were able to migrate it within a few days with no trouble. In addition to this, you can get your old Magento 1.X site upgraded, build a new e-commerce store or move from another ecommerce platform to Magento 2, all with a help of a certified Magento developer. Rotate screen to normal mode