Traditional Marketing Vs Digital Marketing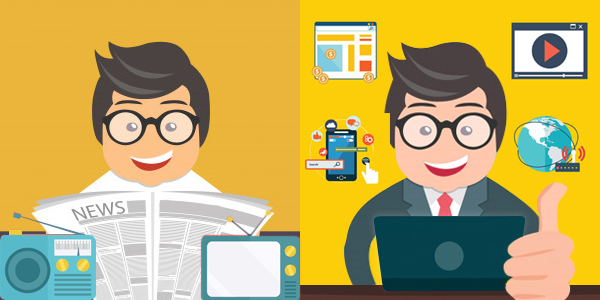 With the traditional vs. digital marketing debate going on, let us figure out what is most suitable for the marketing and promotion of your business. Online advertising vs. traditional advertising could seem like a tough decision to make but these pointers will help you make up your mind.
There are many facets of traditional marketing and examples might include tangible items such as business cards, print ads in newspapers or magazines. It can also include posters, commercials on TV and radio, billboards and brochures. Traditional marketing is anything except digital means to brand your product or logo. Another overlooked means of traditional marketing is when people find a particular business through a referral or a network and eventually you build a rapport with them.
Digital or online marketing is the marketing mode of the global village. It is only obvious that the era of the internet will have its influence in every realm of life.
Traditional Marketing's Advantages and Disadvantages
Because of its longevity, people are accustomed to traditional marketing. Finding ads in magazines and newspapers, or reading billboards are still familiar activities and people still do them all the time. Most of the time, traditional marketing is reaching only a local audience even though it is not limited to one. One of the primary disadvantages of traditional marketing is that the results are not easily measured, and in many cases cannot be measured at all. In most cases, traditional marketing is also more costly than digital marketing. And perhaps the biggest disadvantage today is that traditional marketing is static which means there is no way to interact with the audience. It's more like you are throwing information in front of people and hoping that they decide to take action.
Benefits of Digital Marketing
Digital marketing is the most widely used marketing in today's world. It is considered an effective tool of marketing. It not only works in the favor of marketers, it also works in the favor of the customers.
Opens options for small scale organizations
With digital marketing in trend, even the small scale organizations can flourish. They can select their marketing method and can reach their selected audience at a lesser cost.
Wider reach
As more and more people are consuming all kinds of information online; digital marketing is becoming the best way to reach out to your targeted customers.
Growth beyond boundaries
It's important to understand that digital marketing doesn't only applies to your website; it is much more than that. To make your business stand out from the crowd, you need a real strategy that puts potential customers first and use all the available tools to acquire them.
A step ahead
Digital marketing gives you a chance to grow a step ahead of your competitors. If you learn more, you'll grow more. It is all about the learning process. The more you become good at it, the better your organization will flourish.
Traceable results
Digital marketing has more traceable results as compared to any other medium. You can trace them on digital platforms as they have various tools to do that. Feedback is the most important thing for any organization and here; feedback results are instantly and can be traceable.
Marketing is the necessity of any organization in today's time. Whether it is traditional marketing or digital marketing, an organization needs support of these to grow. Marketing is like a wheel on which organizations ride. Therefore marketing cannot be ignored. But there is always a choice with the organizations to choose their marketing style. A wise organization looks at all the aspects, does a detailed study of them and then selects their marketing medium. Rotate screen to normal mode