Influence of E-Commerce in the Healthcare Industry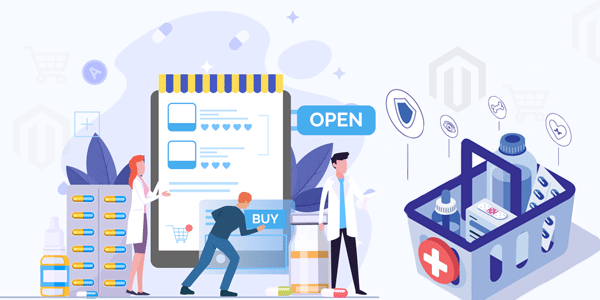 The Healthcare Industry comprises companies that offer clinical services, manufacturing drugs & medical equipment, and also provide healthcare-related support services like medical insurance. People are supposed to access these services only by entering the concerned places. But now they are online and consumers can easily get on to their services from their own places. From homecare medical products to even medicine & hospital equipment are now available on a single click.
In the past few years, Ecommerce has made tremendous headway. Also, Ecommerce has the opportunity to revolutionize healthcare as it has done in vastly different industries. In many ways, it changed the medical-industrial procedures drastically. With platforms like Doctor on Demand, Online Video Consultation, and other similar applications, it is clear that Ecommerce is changing the image of traditional healthcare. In addition to ease-of-access, Ecommerce in healthcare can increase efficiency, lower the costs, and ultimately lead to healthier and happier patients.
Ease-of-access
Greatly Ecommerce is benefited by the public's ability to access the services with ease. Since Ecommerce focuses on remote transactions between the provider (distributor/pharmacy) and consumer, the end customers don't have to be anywhere in order to access healthcare services. They shall access all the services right from the comfort of their own spaces.
Increase in Efficiency
In case of the purchase of any medical products, the rush to medical shops and pharmacies get reduced. This creates a great comfort for all those who are in need of regular medicines or medical products and for those who find difficulty in access since they are available on a distance away. The facility of ease in access leads to an increase in efficiency that can be a great boon to the medical industry.
Increase the Patient Experience
With the launch of Ecommerce in healthcare industry patients are able to receive medication delivered to their doorstep without entering shops/pharmaceuticals. As technology advances, healthcare providers that leverage Ecommerce has an opportunity to drastically improve patients' experience through access to healthcare.
Streamline Purchases
In addition to all the other benefits, Ecommerce represents opportunities for clinics, hospitals, and doctors' offices to streamline their purchases of medical equipment and supplies. Medical device manufacturers are increasingly moving online, to allow for direct orders and product deliveries.
As with any new technology, Ecommerce in healthcare is an undeniable category that must be tackled with extra care and innovative thinking. Rotate screen to normal mode