Guardian Angel Homecare – The Caregivers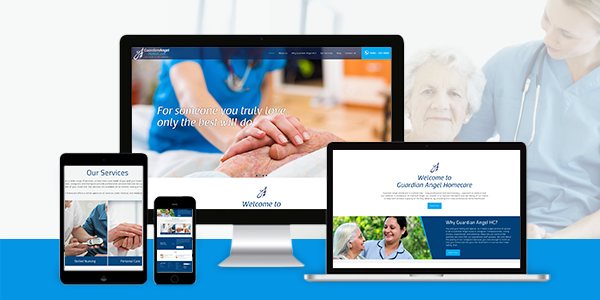 Guardian Angel Homecare is an in-home health care service provider with QAI accreditation for home healthcare services comprising experienced & trained nurses, caregivers, and therapists. They provide professional and customized services under medical, non-medical and therapeutic care.
Guardian Angel Homecare was a well-established community at the earliest, without any digital supports, because of their devoted and warm-hearted service. We, eWoke, help them to establish digitally along with their traditional awareness methods. A perfect digital brand building of Guardian Angel Homecare has done by our skilled & experienced team members using the world-class content management system – WordPress. For this, we follow web development services along with Social Media Posts, video ad shoots, Google Ads, YouTube Ads, and other digital business needs.
Our team of expertise branded Guardian Angel Homecare by developing a user-friendly website at which through a single click the user can access the service. With the successful and quality delivery experience with eWoke, services of Guardian Angel Homecare is now available to all those who are in need of care. Approach to our digital brand building methods helps Guardian Angel Homecare to create public awareness about the journey & future strategy about their services and it also boosts the audience level.
Now, Guardian Angel Homecare is a complete in-home health care provider added with all digital brand aspects. For someone who is in need of attention and care can visit the website and contact for the services offered.
eWoke is a perfect digital solution provider for all the clients who are in need of bringing business digitally, accompanied by traditional marketing methods. We provide you with all digital media solutions through Search Engine Optimization (SEO), Social Media (SMM) posting, content creation, online lead generation, online brand development and management, media campaigns, email marketing, Google Ads, YouTube ads, etc. We design with new technologies and modern marketing techniques to bring up a cost-effective solution that only targets the audience you are interested in.
Let's meet the changing needs of marketing in this digital age through eWoke. Rotate screen to normal mode