eCommerce Development Platforms & It's Features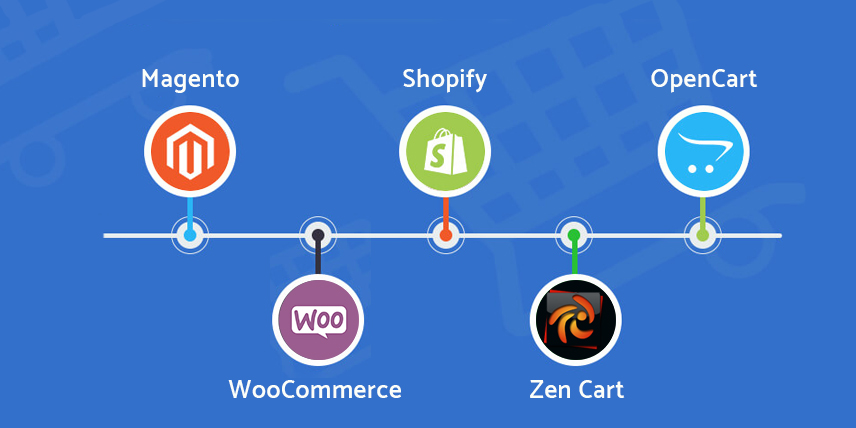 eCommerce (also known as electronic commerce) is a process of buying and selling of products or services, making money transfers, and transferring data over an electronic medium (Internet). This network allows people to do business with no barrier of distance and time. Now a days there are different platforms are available to create an eCommerce Website. Here you can check some of the best eCommerce Development Platforms & It's Features.
Magento
Released in March 2008, Magento is an open source ecommerce website platform. Its reliability and scalability has made it one of the most popular ecommerce platforms available today. Many prominent names such as Burger King, Huawei, Pepe Jeans and Liverpool F.C. have their websites built on Magento.
Shopify
Founded in 2004, Shopify has always kept up with the pace of evolving ecommerce trends and technologies, having broken ground on powerful additions such as social shopping whereby your customers never leave their social media platform in order to buy from you.
WooCommerce
WooCommerce is a WordPress plugin, so you'll have to install WordPress (open source) on your host, then install the WooCommerce plugin onto your site. It automatically turns any WordPress website into a fully functional online store, with inventory management, coupons, and product pages.
Zen Cart
The whole reason Zen Cart was created was so that people without development degrees could build their own online stores. Zen Cart is more user-friendly than many of the other open source ecommerce platforms, so it might be worth looking into if you want to scale up quickly but you don't have advanced skills.
Open Cart
Compared to other open source platforms, OpenCart is actually pretty easy to use and lightweight. It's free and there is a decent community to turn to if you have problems when designing your store.
It's entirely up to you to decide which type of platform is right for you. Rotate screen to normal mode